I can't believe I let you slip away.

OH HI. :D
So I got all the depressing stuff out of my system. Okay...not completely, but enough to go on living normally. Well, normally compared to before. But that's not the point. I'm back and I'm feeling a lot better. :)
Soooooo. I kind of got my inspiration back. I'm actually kind of really happy. I was watching "Running in Heels" which is a (reality?) show about these three interns at Marie Claire. It's epic. And I was like "I WANNA DO THAT!" so I've been up all night researching and reading stuff on Teen Vogue's website. I'm going to expand the topics I talk about on here. Instead of just fashion alone, I'm going to include music, design, art and anything else that may interest me. I'm kind of excited. I think that might help me a little when my inspiration starts to lack.
So I was lying in bed last night and I started thinking about how I've been wasting away my summer. It's the same thing everyday and I'm getting bored of it. I'm going to try doing something new everyday from now on. Speaking of which, I need a bike. /:
I hate walking everywhere. It's a pain in the ass. I saw these adorable 50's-60's ish like bikes when I was in Barrie last weekend with my dad and I was like ":O". For serious. For a good five minutes until I found a Starbucks. :P
I probably won't find any like that again. ):
Like this, except white and not as childish looking.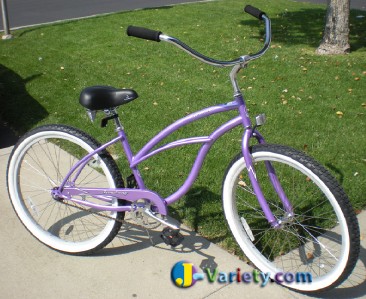 I loved it. Then I found Starbucks around the corner and I totally forgot about it. ):
I think someone took it because when I went back it was gone...how sad...


HOLY CRAP. If you love Asher Roth (I love collegeeee!), listen to Bad Day. It's HILARIOUS. I LOL'd so bad when I listened to it. OHHH, and it's catchy. :D
KAAAY so. It is now...4:15 in the morning and I think I should really get to bed now.
AU REVOIR, mes amis. (: